Job Cards – bulk update of asset serial numbers
We have made an enhancement to Job Cards so it is now possible to bulk update asset serial numbers against input and output assets, helping users enter data into the system more efficiently. For Output Assets – this can either be done manually (as before) or by using the new 'Bulk Actions' options where serial numbers are added, 1 per row.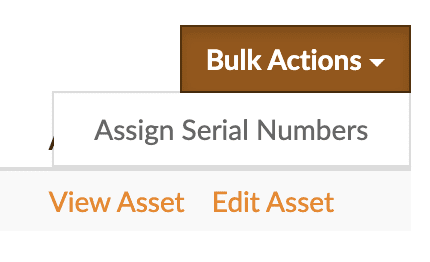 Similarly, for Input Assets, users can now bulk update serial numbers where we would usually have to click the 'allocate' button to enter the serial numbers for each of the input assets.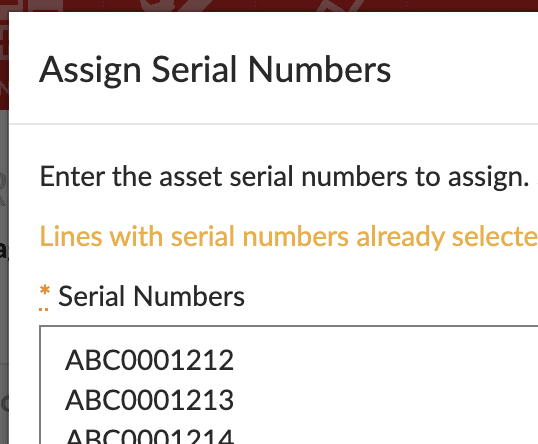 Companies Import Format Report – new filters
We made an enhancement to the 'Companies in Import Format' Report by adding the following filters: Keyword search, Company Type, Country, Flowlens Point of Contact, Customer Contact, Active, GDPR Consent Obtained, Marketing preference Consent, and Date created.
Xero – Credit Notes workflow
We have made an update to the sales and purchase credit notes status for users who are integrated with Xero. Previously, as soon as we sent a credit note to Xero we updated the status from Draft to Authorised but we have fixed this now so it's only updated to authorised when you click 'approve' on Xero.
We made an enhancement to the Part Stock level report to include filters for 'Is Manufactured' and 'Generates Unique Assets'.
Cancelled dispatches > Dispatch date
We made an update to dispatches against Sales Orders so if a dispatch was cancelled, the 'dispatched on' date gets reverted to N/A. Previously it was showing the original dispatch date when cancelled.
Dispatch Notes PDF – Decimal Places
We have fixed a bug on the Dispatch PDF where rounded values were not consistent with what was being shown on Flowlens.
Discounts not applied when invoice is created from dispatch
We have fixed a bug where if a discount was applied against a Sales Order, then a dispatch has been created and from that, an invoice was created, the discount wasn't coming through correctly. This has been updated and the correct discount is now showing.
MRP Software Index – Part number reinstated
We fixed a bug where the part number was removed from the MRP index/MRP tab against a JC. This is now showing as expected.
Bug fix for MRP > Service tab > CSV download
We fixed a bug on the MRP report where if you went to Service tab and download as CSV, the 'We're sorry but something went wrong' page appeared.
Sales Order Date Comparison Report – Updates
We have made an update to the Sales Order Date Comparison Report by adding a sortable filter for 'Due Date', in addition to a column for 'Due Date Variance' which is the difference between the due date and the date the SO is fully dispatched.