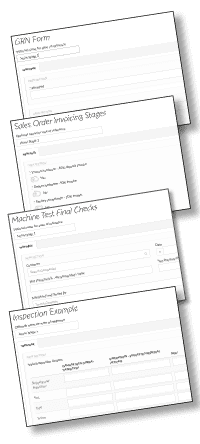 Flowlens customers are using Forms for a wider variety of purposes, saving time, and creating more accurate and complete records at the same time.
Typical uses of forms include
Quality Checks and Final Inspection Reviews
Order Planning Checklists
Material Reviews
Corrective Actions Requests
Service Requests
Asset Logs
and much more
Forms are particularly important for ISO9001 companies seeking to standardise their data capture and provide easy access to evidence.
Forms keep information within Flowlens and reduce paper and manual process steps.
We can help you define and create your forms!
Contact us today to get started or watch the video to learn more.