Invisible Business Solutions, headed by Helen Goodman, is a Brisbane Xero partner and integration specialist based on the Gold Coast, and the first Flowlens partner which serves both Australian and New Zealand market, particularly those within the equipment manufacturing and trade sectors.
Their core function is to help companies improve their operations through the integration of cloud-based software such as Xero and cloud-based manufacturing software like Flowlens. This article will discuss how Helen uses these systems to provide value to emerging & expanding businesses.
How Invisible Business Solutions Drives Process Change via Xero and Cloud-Based Manufacturing Software
The first step in implementing an effective process change in a business has nothing to do with any specific software but rather in developing an understanding of the end goal of the process change. Invisible Business Solutions achieves this through consultation with the client.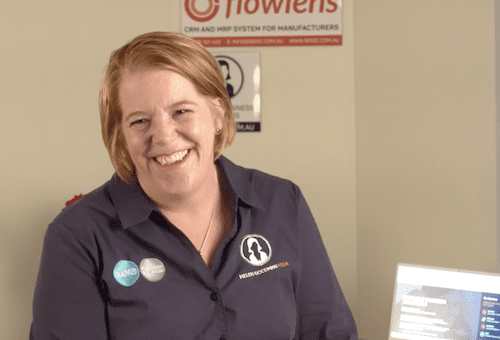 "For my clients, I operate on an initial consultation to understand what they're trying to achieve now and in the future."
During this consultation process, the following items are covered:
Define what the company is trying to achieve, and how this cloud-based software integration fits into their long-term vision.
A deep-dive business review is undertaken to determine exactly which processes present the most difficulty; basically what the pain points are. It is important to engage with all stakeholders during this stage.
Time-based pain points are analysed to determine where improved time efficiencies brought on by Xero and Flowlens cloud-based manufacturing software can have the greatest impact.
When starting the implementation phase of cloud-based manufacturing software, there are a few key considerations. A good starting point is to make sure all data is up to date so that it can be carried over to the cloud software. It's also critical to appoint a process-change leader to drive the software integration. This needs to be someone senior enough within the business to enforce change and guide stakeholders whenever required.
"Getting their data organised and cleaned up – that's often a time-consuming task. But the value is in the data, and that's where exciting reporting can come from."
When implementing any system change be it Xero Integration or cloud-based manufacturing software, there will always be a hesitancy to adopt new systems by some people within the company. As such, process change is more than just implementing the technicalities of the software but also consists of engaging all stakeholders to help them understand why a process change is needed and more importantly how it can benefit their day-to-day actions as well as benefit the company as a whole. One of the more common challenges is convincing staff to use the system, as Helen describes:
"They don't want to fill in paperwork, they don't want to report stuff because they don't really understand why they're doing that."
This is why communication is a crucial part of any cloud integration process, and business owners need to effectively articulate the benefits of the system to motivate all stakeholders.
Why is Xero Ideal for the Australian Market?
Australia was one of the first countries where Xero implemented its partner network. The goal of this network was to assist small businesses with Xero integration. Helen was a part of this network and focused specifically on helping companies use the data-aggregating systems in Xero Ecosystem to assist them with making informed and effective decisions. As one of the first implementation integrators, Helen has significant experience addressing the needs of small to medium businesses in Australia and New Zealand from her base outside Brisbane, on the Gold Coast of Queensland. 
On a more technical note, Xero is built from the ground up as cloud-based accounting software. Its focus is to be the best cloud-based accounting software. In addition to this, Xero has an open API, thus making it easy for companies such as Flowlens to integrate workflows. In the case of cloud-based manufacturing software like Flowlens, Xero integration is seamless and allows companies to benefit from the focused accounting features provided by Xero and the user-friendly CRM & MRP capabilities provided by Flowlens.
How to Migrate From Legacy Systems to the Cloud
Moving from legacy systems to cloud-based solutions like Xero and Flowlens requires some data wrangling and stakeholder training. Helen's ethos is to 'teach people how to manage a system' instead of spending time on the minutiae of data transfer. As such Invisible Business Solutions assists with the heavy lifting of this data transfer since this step is typically a one-off. Once the transfer is complete, training can be done on the system using the company's actual data, which is a highly effective strategy. 
Benefits of Partnering With Flowlens
For Invisible Business Solutions, one of the key aspects of working with a software company is the availability of their support. Each new client brings a unique set of challenges to the table. As such there must be a direct line of communication between Invisible Business Solutions and software vendors. In the case of Flowlens this has been exceptional according to Helen:
"I haven't found that in a software in the manufacturing space until I met Flowlens and that's why I was really excited to be able to work with Flowlens as an implementation partner because the support and guidance you guys have provided has been exceptional."
Choosing specific cloud-based manufacturing software can be a difficult undertaking because it's unknown whether a system can achieve a company's stated goals. In light of this, Helen recommends that companies not immediately jump to a specific software even if it seems it may solve all their problems. It is far more effective to understand the potential problems in a company's underlying processes than to try to choose a cloud-based manufacturing software right off the bat. 
 "If their workflow has a bottleneck that isn't something the system will solve by itself."
According to Helen, one of the main challenges faced by her clients is the lack of efficient communication. Information is often scattered throughout the business in the form of spreadsheets, handwritten notes, emails, etc… This lack of communication makes it difficult to track jobs from enquiry through to delivery, especially in the case of custom orders. Flowlens allows all the relevant data to be in one place, which dramatically improves operational efficiency.
"CRM functionality and improving communications probably have been the most common advantages that everybody's identified really early on."
If you're based in Australia or New Zealand, and are interested in how Xero and Flowlens can help you, contact Invisible Business Solutions at their Brisbane / Gold Coast office, via https://invisiblebusinesssolutions.com.au/ or email info@ibsgc.com.au.