Flowlens is user-friendly cloud manufacturing software for growing equipment, machinery and device manufacturers.
What is holding you back?
Transform your business information flow with integrated Sales (CRM), Supplier, Manufacturing (MRP) and Service software that puts all your business information in one place.
Cut waste and duplication of effort, reduce errors and respond faster.
Flowlens cloud manufacturing software works with Xero, QuickBooks and Sage…
…and is backed by 5 star UK and Ireland based implementation and technical support.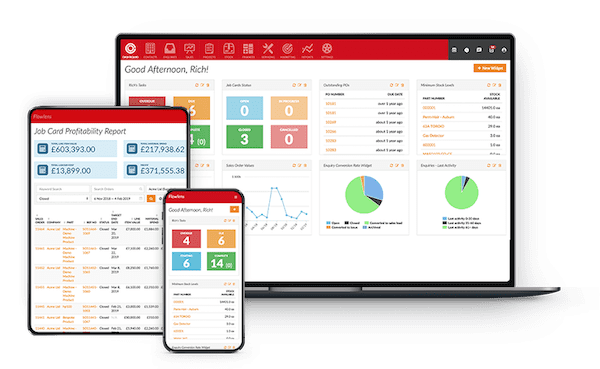 "Manages the whole process"
"The ability to manage the whole CRM & MRP process in a single system, with visibility for the team at each stage, it's brilliant." [Watch Video]
Oliver Caunt – Managing Director – JCS Nuclear Solutions Ltd
Accelerating growth for SME manufacturers
One System to Manage Your Business
Take 2 minutes – watch how Flowlens cloud manufacturing software can free up time to work on your business, not in it!.
"Saves 2 Full Time Employees"
"I don't need dedicated admin staff managing, parts, orders and POs, so it's saved me two full roles across the business process." [Watch video]
Nathan Peel – Engineering Director / Co-Founder – Denatec
From £199 per month including 2 users
+ £39 per extra user
Shopfloor Users Priced Separately
What's Included?
Sell, Make, Purchase, Stock, Invoicing
2 full users 
2 shop floor users

UK and Ireland based support

Multi currency

Branded PDFs (Orders, Quotes etc)

Xero or Quickbooks integration
(Sage 50 priced separately)
+ Bolt-Ons 
4-week onboarding programme   

Dedicated onboarding manager

Business Process Mapping

Pro Modules

Sandbox platform
Your Sales, Manufacturing & Service Operations
Avoid Silos & Wasted Time
All in one Stock, Sales, Purchasing Jobs & Service.
Deliver On Time
Production Schedule & Materials Requirements (MRP) system.
Sync with Accounts, Save Time
Xero, QuickBooks and Sage 50 integration capabilities.
Deliver On Time
Manage Production Schedule & Materials Requirements (MRP).
Sell More
Track Enquiries, Sales Leads & Quotes with follow-up tasks.
Control Cash
Chase payments, monitor spend and purchase efficiently.
Grow Repeat Business
Serial Numbers & Service Ticket / Job Management.
Get Results Fast
Expert UK and Ireland based implementation help and training plus easy to use data Importers.
Accessible and User-friendly
Works on your phone, laptop or computer, wherever you need to work
Easy to learn
with online knowledge base included.
"It's very powerful"
"It's so simple and it's taken a lot of unnecessary activity out of the processes. So a production technician lead can take something in goods inwards and process it right through, so we don't need someone in goods inwards, or a full time material planner." [Watch video]
Ray Dodd – General Manager – On Systems
Effective UK & Ireland based support and training
"We were guided through it and given a step-by-step training/introduction to Flowlens. Support is available really quickly." [Watch video]
Gareth Black – Technical Director – Flint Subsea