Simple MRP Software For Your Equipment & Device Manufacturing Business
Avoid stock shortages and over-stocking with all-in-one CRM, Service & MRP Software.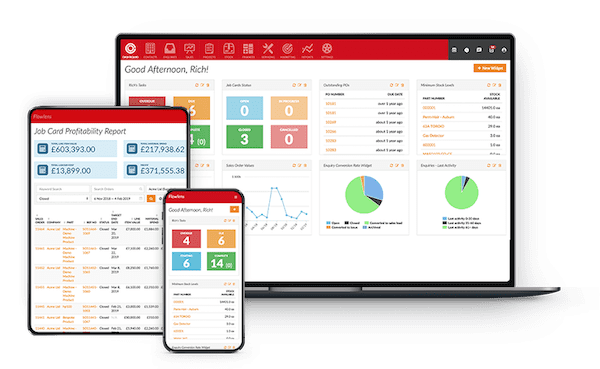 Designed for ambitious manufacturers of equipment, devices and machinery.
Flowlens combines time-saving CRM, MRP software, Service tools and management reporting and dashboards that cut out wasted effort, duplication and bottlenecks.
Solve shortages, improve cashflow, reduce stock levels, plus…
Flowlens integrates with Xero, QuickBooks and Sage…
…and we offer 5 star support and training!
Get rid of duplication, mistakes and endless spreadsheets.
Flowlens is joined-up CRM, MRP Software & Servicing for equipment, machinery and device manufacturers that puts everything in one place.
Affordable MRP software for SME assembly, engineer & build to order manufacturing businesses
"Manages the whole process"
"The ability to manage the whole CRM & MRP process in a single system, with visibility for the team at each stage, it's brilliant." [Watch Video]
Oliver Caunt – Managing Director – JCS Nuclear Solutions Ltd
Everything you need in one place...
Take 2 minutes – learn how Flowlens can improve your cashflow
From £299 per month including 2 users
+ £39 per extra user
Shopfloor Users Priced Separately
What's Included?
Sell, Make, Purchase, Stock, Invoicing

One Bolt-on feature

2 full users  and 2 shop floor users

UK and Ireland based support

Multi currency

Xero or Quickbooks integration
(Sage 50 priced separately)
+ Bolt-Ons
Advanced features for Sales Pipeline, Service, Quality and ISO/Quality Forms & Data Feeds
Hands-on 4-week onboarding programme

Dedicated onboarding advisor

and process advice

Sandbox system

Starting Up? Contact us for early stage pricing
"It's very powerful"
"It's so simple and it's taken a lot of unnecessary activity out of the processes. So a production technician lead can take something in goods inwards and process it right through, so we don't need someone in goods inwards, or a full time material planner." [Watch video]
Ray Dodd – General Manager – On Systems
We're With You, Step By Step
Effective UK & Ireland based support and training
"We were guided through it and given a step-by-step training/introduction to Flowlens. Support is available really quickly." [Watch video]
Gareth Black – Technical Director – Flint Subsea
Control Your Manufacturing & Service Business
Reduce Bottlenecks & Improve Cashflow
Integrated Stock, Sales, Purchasing Jobs & Service.
Reduce Stock Exposure
Track stock and purchase more efficiently to avoid overstocking.
Sync with Accounts, Save Time
Xero, QuickBooks and Sage 50 integration capabilities.
Deliver On Time
Manage Production Schedule & Materials Requirements (MRP).
Sell More, Convert More
Track Enquiries, Sales Leads & Quotes with follow-up tasks.
Control Cashflow
Chase payments, monitor spend and purchase efficiently.
Grow Repeat Equipment Service Business
Service Ticket / Job Management
Manage Equipment Serial Numbers and history
Single Source of the Truth
Get rid of the spreadsheets, and keep all your customer, supplier, operations and service data in one place, cutting wasted time and confusion.

Accessible and User-friendly
Works on your phone, laptop or computer, wherever you need to work
Get Results Fast
Easy to learn system with 5-star implementation help and training plus easy to use data Importers and online knowledge base.
Flowlens is cloud-based online software for small manufacturing businesses. Flowlens includes user-friendly MRP software that helps equipment manufacturers plan stock requirements and avoid shortages.
With supplier part numbers, bill of materials management, integrated purchase orders, serial numbers and simple online sales/service CRM tools, Flowlens cloud MRP software provides everything that a small-medium sized manufacturer of equipment machinery and plant needs to run their business.
Flowlens online MRP software integrates with your Xero, Sage 50, Quickbooks Online or Kashflow accounts packages for seamless data transfer.
Enhance your process efficiency and business continuity with simple, effective, integrated remote working tools from Flowlens.