We're delighted to announce that the award winning Environmental Street Furniture Ltd has selected Flowlens CRM.

Environmental Street Furniture has successful partnerships with many high profile clients across a range of sectors, including the renewable energy, construction and visitor attraction sectors, all of whom require quotations to submit with their bids.
Environmental Street Furniture often issues multiple quotations to bidders for such projects, however most CRMs are too rigid, and couldn't handle this. The firm had resorted to emails, spreadsheets and manual documents to track follow-ups and activity. The fast-growing business was frustrated by this manual approach and sought a solution that could support its growth and handle the project-based quotations.
Flowlens was able to demonstrate to the team at Environmental Street Furniture how multiple quotations can be tracked against projects, which typically attract many bidders.  This solved the problem of staying on top of quotation follow-ups and enables a clearer understanding of success rates.
Managing Director of Environmental Street Furniture, Alan Lowry said, "We are delighted with our new customer relationship management (CRM) system. Flowlens, with a local office and support network, ensured that their configured solution fitted our business needs, allowing us to track by project rather than by customer. With our business operating across 25 countries and having tried many other popular CRM systems, Flowlens not only met our needs but delivered on the flexibility that was required."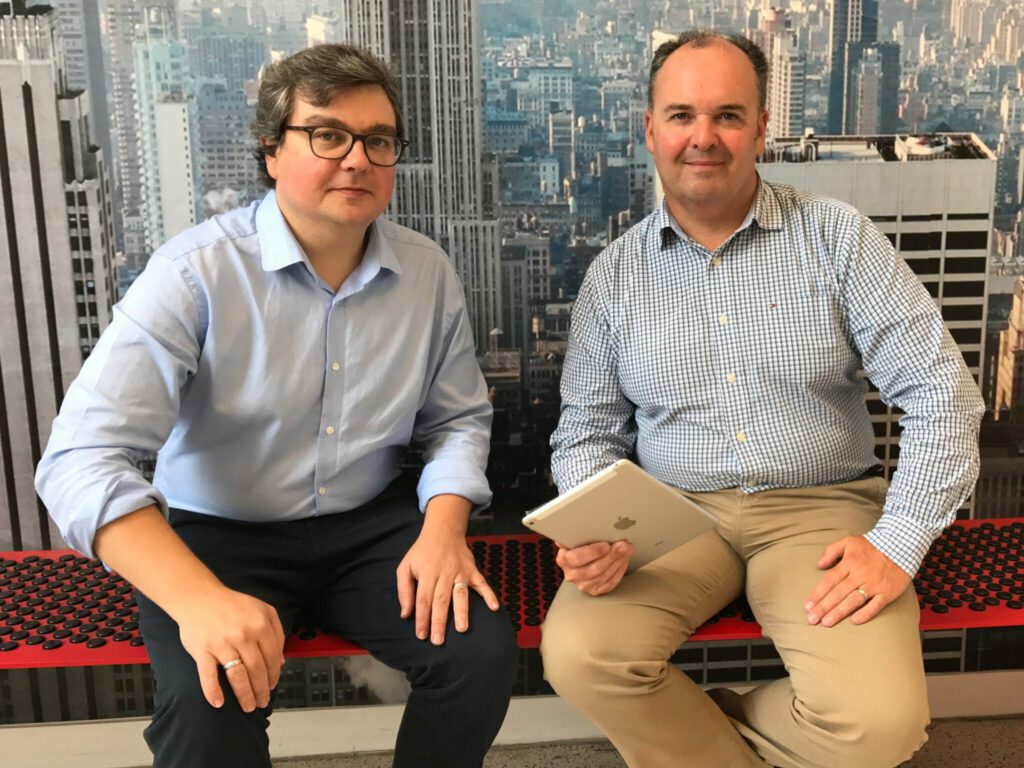 Rich Dale, CEO Flowlens, with Alan Lowry, MD Environmental Street Furniture
Flowlens was able to demonstrate effective management of the unique Project/Contractor/Quotation requirement, alongside its user friendly interface, mobile sales activity management and simple quotation builder tool. For Management, Flowlens provided information quickly and in realtime through dashboard and instant reports. Furthermore, as a modular ERP and CRM solution, Flowlens offers Environmental Street Furniture a pathway to adopt other business management features such as Order Processing, Sage 50 integration and After-sales Service management.
Flowlens also offers an affordable subscription pricing option, with a range of training and configuration services to support Environmental Street Furniture in getting up and running quickly.
Flowlens CEO, Rich Dale said "Environmental Street Furniture is a fast-growing company, operating globally, with a need to track multiple quotations against a project. Flowlens was able to demonstrate support for this need, alongside mobile working, user friendly tools, and accessible pricing."
-ends-
About Flowlens
Flowlens is a modular cloud-based business management suite aimed at growing SMEs. Flowlens offers ERP and CRM modules that control stock, operations, production, sales and after-sales, in one joined-up and easy to use subscription service. The business was established in 2006, & serves customers across the UK, Ireland & the USA.
About Environmental Street Furniture
Environmental Street Furniture (ESF), based in Newtownabbey, designs and supplies a large selection of exterior street furniture products. Exporting globally to over 20 countries, this innovative company also offers a wide range of solar powered products, as well as customised bespoke products for the theme park industry. To find out more about the ESF range of products, visit their website www.worldofesf.com or call 0845 606 6095.